wood veneer dryer can supply high efficiency with lowest drying cost. Our veneer drying machine has advantages of high productivity, energy efficiency and perfect drying effect. 4deck veneer dryer is a new technology, which equipped with automatic feeder device can feed the veneer to dryer and save labor cost mostly. The veneer after drying has uniform moisture content and it is flat without buckle or end waviness. Less maintenance is required for Shine veneer dryer machine and no veneer jamming leading to less downtime. Shine biomass veneer dryers machine can reach user's special requirements and achieve ideal drying effect mostly.
Shine 4deck veneer dryer is our newly developed product to meet high capacity requirements of customers, which has the salient features of higher drying capacity. The rollers use φ102 special steel pipe. The bearings of 4 deck veneer dryer are featured high temperature 500 degree Celsius resistance and low temperature -20 degree Celsius resistance which no need injecting oil and easy maintenance in the daily operation.
Shine High Drying Capacity Veneer Dryer machine is one of the most popular woodworking machines. the veneer dryer machine can be from 15cbm to 150cbm per day. Shine roller plywood veneer dryer can be designed 1 deck, 2 deck or 4 deck according to different customers' requirements. Normally if the capacity requirement of the roller veneer dryer machine is high. user will choose 2 deck or 4 deck veneer dryer. The main advantages of the 2 deck roller veneer drying machine is that it can save areas and improve working capacity. The veneer dryer produced by Shandong Shine Machinery Co., Ltd. is widely used in flatting drying of high-grade plywood, multi layer board and architectural core face veneer. It is equipped with environmental protection type hot air stove. its characteristics: save fuel, twice use of hot air, increase heating speed. the veneer after drying is flat, moisture content is up to national standard.
The Main advantages of Biomass Burner
1.Smokeless, energy saving and environmental
2.Low cost,waste wood does not need to be dried in the sun and can be burned directly, reducing the cost of drying.
3.High temperature, large yield, full combustion
4.high efficenency ,under the traditional way, the venee easy to crack after long-term exposure. and it's affected by the weather; however, veneer dryer drying is not easy to deformation, low damage rate, high product rate.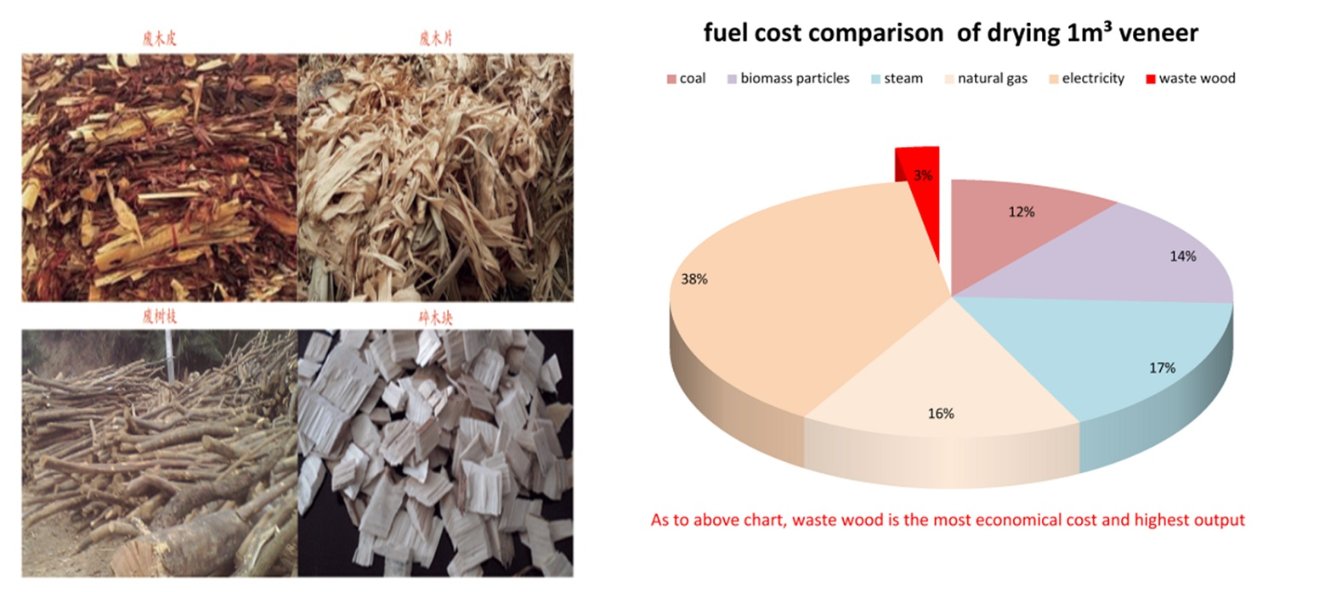 Product Parameters
Customer Case
Presale service
Ⅰ.Make reliable pratical mechine list and production proposal free of charge, according to customers' actual situation
Ⅱ.Design the machine free of charge, according to customer's production line and production cost,
Ⅲ. Make the workshop and production line layout free of charge, according to customers' factory land
Medium-sales service
Ⅰ.Video for the manufacturing process as customers requirement
Ⅱ.Machine modifying according customers' suggestion
Ⅲ.Order the shipment and prepare the documents for customers' clearance, according to customers' custom requirement
After-sale service
Ⅰ.One year warranty for main machine, cost price for vunerable parts
Ⅱ.Experienced engineer is avaiable for the machine installation and worker training
Ⅲ.Cooperate with Aliyun OS, remote control of trouble shoting and system upgrading
Our Factory
Certificate